ELECTRONICALLY SUPPLIED ART
If your image is too large, it may not fit on small or youth-sized t-shirts. It may require two press set-ups, two sets of screens, and a second set of films, all of which can cause your expenses to rise dramatically. Even if you are printing a range of sizes only from men's small to XXL, you will probably need more than one size to make the image look good on each size.
PROCESS COLOR PRINTS NEED SPECIAL TREATMENT
Designs for apparel are treated differently from designs for paper. The separation requirements are unique. Dot gain, ink limits, spot plates, and screen angles are not transferable between the two media. It is worth the extra cost to have a design properly separated, because litho film will not work!
BLACK SHIRTS
When printing on a black shirt, a block of white ink underneath a design can compromise image quality. It makes the shirt look bad, and feel heavy. IMAGES THAT WORK BEST ON BLACK GARMENTS WERE DESIGNED FOR APPAREL FROM THE BEGINNING. 
For the best results, make the garment color part of the design.
MORE THAN FOUR COLORS ARE USUALLY REQUIRED TO PRINT PROCESS A GARMENT
New developments in separation technology no allow us to replace normal four color process prints with brighter, more intense prints using spot colors. This technique can make an image much more impressive, and only uses one set of screens for any colored garment! This process requires anywhere from six to ten screens.
EXPECT THE IMAGE TO BE PRINTED AT 55 OR 65 LINES PER INCH
Fabric has holes in it, and you cannot print on air! The coarser line count better matches the knit of the garment than a higher line count. This helps minimize dot gain and improve color development. It is rare to find an apparel printer using counts of 85 lpi or higher.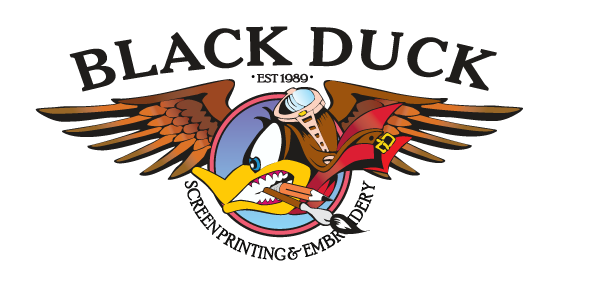 Fill out the form and SAY HELLO!
Ph: +1 505-884-3656
Fx: +1 505-884-3979
Mon-Fri: 8:00am - 5:00pm
4820 Pan American East Fwy NE - Albuquerque, NM 87109