Our showroom is designed with you, the customer in mind. We have samples of most items, all clearly priced and grouped for comparison. WE also have samples of recently completed jobs, so you can see how you job might look. The Black Duck showroom provides and attractive, comfortable and creative space allowing you hands on time with the sales and design staff. Clean space, informative displays & consistent branding make our showroom one of the best in the business.
Our 22,000 square foot facility allows us the room to run one of the largest screen-printing and embroidery outfits in the Southwest . With all this room to roam, we have dedicated, well-planned production areas for our skilled screenprinters and embroiderers, a dedicated signmaking station, packaging and finishing areas, and a full-featured shipping and receiving department.
We have everything on display from basic t-shirts, polos, and caps to ladieswear, bags, and even imprinted Ad Specialty items.
If you are having trouble coming up with ideas for promotions, selecting garments, or even if you are just contemplating having imprinted items made, the Black Duck showroom has all the inspiration you'll need to make your project happen.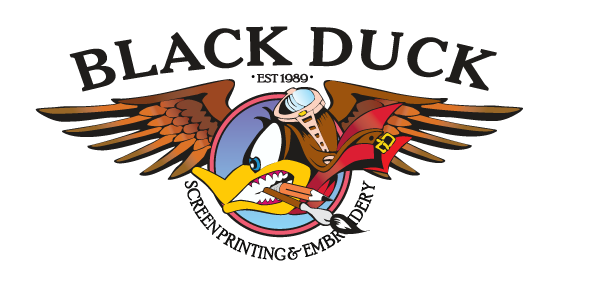 Fill out the form and SAY HELLO!
Ph: +1 505-884-3656
Fx: +1 505-884-3979
Mon-Fri: 8:00am - 5:00pm
4820 Pan American East Fwy NE - Albuquerque, NM 87109